Geilo Ski School at Slaatta Skisenter
Timrehaugveien 34, Hol

+47 32090370

km From You
Book ski school - Invest in skiing pleasure that last a lifetime!
We like to inspire and develop you on the snow and make your ski holiday a positive memory.
– Holiday memories that will last forever
Whether you are a novice or an expert, Geilo Snowsport instructors will guide and inspire you in your development on the snow. Geilo Ski School offers Private lessons and Group courses. Whatever you choose you will get professional guidance and personal development, skiing pleasure, confidence and not least safety in the ski resort.
We have professional instructors in the disciplines of Alpine skiing, snowboarding, Telemark skiing, cross country skiing and our adaptive program (skiing/snowboarding for disabled people).
Group ski school
Geilo Ski School instructors have the education, patience and the personality to get your child on the slopes and keep them smiling throughout your Geilo ski holiday, gaining experience. Your child will experience the thrill of the slopes, learning and starting a lifelong passion for mountain sports. "Learning by doing". In our youth and adult groups, we will focus more on technical terms and techniques, but we still play and enjoy the social aspects of skiing.
With the safety in having an instructor you will find it easier to develop and feel safe doing something you thought was beyond your limits.
We offer group classes for everyone form 5 years of age and the groups are divided by age and skills.
Starting day for 4-day alpine group course Monday-Thursday (80 min) NOK 1035
*On Friday we offer Ski adventure for children 5-14 years old as an exciting and fun end of the week.
We highly recommend you to pre-book, to be guaranteed a slot in ski school
Cross country 3-day beginner course Monday-Wednesday NOK1445 (From 12 years old)
Sign up the day before at the latest
Private instruction – Quicker progression!
We believe private instruction provides the opportunity for a much faster progression and this will then give you maximal enjoyment and unforgettable experiences.
Geilo Ski School has experienced and professional ski and snowboard instructors, certified and educated according to national and international standards. They are all educated in methodology, pedagogy, technique and analysis. Geilo Ski School snowsports instructors will tailor lessons according to your wishes and needs. Through private lessons you get professional guidance. When needed, we can also use video analysis.
Pricelist Geilo Ski School 2018-20191 per person / extra person
Kids private lesson for children 2-4 yr. old 40 min NOK 475 / 245
Private coaching 55 min NOK 715 / 265
Private coaching80 min NOK 1035 / 295
Private coaching110 min NOK 1275 / 355
Private coaching170 min NOK 1845 / 395
We offer private lessons in Alpine skiing, Snowboarding, Cross Country skiing, Telemark skiing and adaptive lessons Bi & Sit Ski.
Adaptive program – Snowsport for Everyone
We believe that snowsports should be available for everyone- therefore Geilo Ski School provide an adaptive program in Geilo.
Today we have the opportunity to offer skiing, snowboarding as well as Bi and Mono sit skiing. Our trained instructors will take care of you whether you have special needs such as blind, deaf, amputees, paralysis or other functional disability we will make sure you are well taken care of and get to experience the magic of the ski slopes.
Introduction package Sit Ski
1,5 hour with instructor and equipment NOK 1365
2 hour with instructor and equipment NOK 1565
Half day package Sit Ski
3 hours with instructor and equipment NOK 2145
Private tuitions excl. equipment
1,5 hour NOK 995
2 hour NOK 1195
For any questions and booking please contact:
booking@geiloskiskole.no
+47 32 09 03 70

Slaatta Skisenter
Slaatta Skisenter stands for cosy and family-run, where service and personal contact is very important. Slaatta Skisenter must be one of the best places for children, families and new beginners. Slaatta is a complete ski centre with ski slopes, ski service and ski rental, Geilo Ski school which offers weekly activities for all ages, and both group courses and private instruction is based at Slaatta Skisenter, and at Slaatta Stugu cafe on the second floor you can get home-cooked food in a relaxed atmosphere.
Member of GEILO365. For online booking of all our activities: www.geilo365.no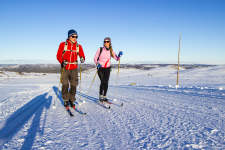 ---
Last Updated

:

Source

: Visit Geilo AS
Zakwaterowanie
Wyposażenie hotelu
Grill
Plac zabaw
Przyjazne rodzinom
Bezpłatny parking
Ośrodki narciarskie
Narciarstwo biegowe
Szkółka narciarska
Snowboard
Aktywny wypoczynek
Atrakcje
Narciarstwo biegowe
Wycieczki z przewodnikiem
Przewodnik
Narciarstwo alpejskie
Half-pipe
Autobus dla narciarzy
Jazda na rowerze
Narciarstwo biegowe
Wypożyczalnia nart biegowych
Przygotowane trasy
Atrakcje zimowe
Narciarstwo alpejskie
Gry narciarskie
Narciarstwo telemarkowe
Saneczkarstwo
Zaplanuj swoją podróż
Jak dojechać
Parking odkryty - bezpłatny
Bezpłatny parking
Parking dla autokarów
Usługi
Przyjazne rodzinom
Bezpłatne WiFi
Krzesełko dla dzieci
Smaki Norwegii
Restauracje i kawiarnie
Atrakcje
Atrakcje dla dzieci
Parki rozrywki
Green Travel
The Geilo Ski School at Slaatta Skisenter has obtained certification for their environmental efforts by:
Environmental certification of private and public enterprises, also tourism.
Statens Kartverk, Geovekst og kommuner - Geodata AS
Traveler Reviews in partnership with
Your Recently Viewed Pages